Vancouver Canucks prospects ranking Top 20: #4 Thatcher Demko
Do the Vancouver Canucks have enough star power in their prospects to sufficiently replace the Sedin twins?
The Vancouver Canucks have accumulated quality prospects through the trade market and the draft. This is undoubtedly the best pool of prospects this team has had in recent memory and it will continue to get better next year as the Canucks will look to get yet another top pick in the 2018 Entry Draft.
But in today's NHL in which skaters peak in their mid-20s and stars like Connor McDavid and Auston Matthews emerge in their teen years, top prospects don't have until age 25, 26 to make their NHL debuts.
Do the Canucks have these elite prospects who can contribute before long?
The truth is that the rebuild cannot carry on forever. Looking back to how the Edmonton Oilers were before the arrival of McDavid, we know that time isn't the omnipotent answer for the development of young NHL players.
For the first time since the beginning of the Sedin era in Vancouver, the Canucks may have elite prospects who could turn out to be game-changers for many years to come.
We present to you Week 4, the conclusion of The Canuck Way 2017 Canucks Prospects Ranking. As we are taking a look at the most complete and elite prospects, let's move away from the conventional look at the strengths and weaknesses to a more holistic analysis of these prospects.
The Canuck Way 2017 Canucks Prospects Ranking
Our TCW staff ranked all Canucks prospects. The criteria: whatever each writer thinks is important. Current position in the organization, talent, potential, and chance of NHL success. All prospects under 24 years of age were considered as long as they did not spend significant time in the NHL.
At No. 4, we take a look at the highest-ranked prospect netminder in the Canucks system, Thatcher Demko.
No. 4 G Thatcher Demko
Height: 6-foot-4
Weight: 200 lbs
DOB: 1995-12-08 (Age 21)
Drafted: 36th Overall, 2014
2016-17 Stats: 45GP -2.68 GAA – .907 Sv%
Don't let those stats fool you. Thatcher Demko is a top-notch prospect netminder who won multiple games single-handedly for the AHL Utica Comets as a rookie. Those numbers aren't so bad considering how weak the team was overall, having lost so many bodies to injuries and to the NHL.
Going into the last two games of the season, the 21-year-old was on a run of 13-4, posting in those 17 games a 1.90 goals-against average and a .933 save percentage.
Just looking at that and dismissing the first half of the season and the last couple games is not what we should do in assessing Demko's play but those numbers show just how good of a goaltender Demko could develop into.
Demko has everything in terms of physical ability that netminders are looking for. His 6-foot-4 frame is quite decent.
In fact, I would argue it is quite the perfect size for a netminder as giants who stand tall at 6-foot-6 and 6-foot-7 have shown that pucks can go through the gaps quite easily.
With the NHL looking to adopt smaller netminder equipment, Demko's big-but-not-massive size could be quite the optimal one going forward.
Demko's size is complemented nicely by his reflexes and his flexibility. Though he isn't Michael DiPietri-like in his desperation efforts to make impossible saves, Demko is not too far behind. The size and the composure that Demko has, however, allows him to stay away from having to make those crazy saves, anyhow.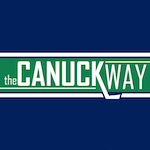 Want your voice heard? Join the The Canuck Way team!
Write for us!
Demko's mobility and flexibility come after undergoing two major hip surgeries. Thanks to those procedures, he improved to posting historic numbers for Boston College in his final NCAA year, posting 10 shutouts, .935 Sv% and 1.88 GAA.
Something that probably gets underappreciated about Demko's game is his ability to anticipate the play. His poise and positioning are great so almost everything that he anticipates is saved.
The aforementioned stretch of 17 games shows that Demko has the physical ability to absolutely dominate against tough competition. Now he will have to string together those types of efforts more consistently and not end up giving up nine goals in the next two games as he did to end last year.
You could argue that fatigue really set in. Demko has the 60-minute endurance down and can hold his own on any given night. He doesn't have the stamina yet to play 50+ NHL games a season yet, though.
Whatever Demko needs to do, he knows that he has a lot of time to work with. Fellow Boston College alumnus Cory Schneider spent three full years in the AHL before a full-time role in the NHL as a back-up.
Demko likely has another couple of years left in the AHL. With young starters Jacob Markstrom and Anders Nilsson on multi-year contracts with the Canucks, Demko should focus on making the most of his AHL seasons before making the jump to the NHL.
Demko is a great prospect. At worst, he will be a good back-up. In fact, he could probably suit up as a 15-game back-up to a guy like Schneider even next year and hold his own in those games. With time and patience, though, Demko could peak as a franchise netminder who is the backbone to the next era of cup contending in Vancouver.
– 2017 TheCanuckWay Prospects Ranking Top 20 –
#5 – LW Jonathan Dahlen
#6 – RW Nikolay Goldobin
#7 – RW Kole Lind
#8 – C Adam Gaudette
#9 – RW Jake Virtanen
#10 – LW Jonah Gadjovich
#11 – D Jordan Subban
#12 – F William Lockwood
#13 – G Michael DiPietro
#14 – D Guillaume Brisebois
#15 – D Evan McEneny
#16 – F Petrus Palmu
#17 – D Jack Rathbone
#18 – D Jalen Chatfield
#19 – F Cole Cassels
#20 – D Kristoffer Gunnarsson
The Honourable Mentions
Next year, Demko and his veteran friend Richard Bachman will be back between the pipes in Utica. With a good number of prospects including Guillaume Brisebois and potentially even Jonathan Dahlen set to join the Comets next year, the team could be bound for a deep playoff run for 2017-18. Let's keep a close eye on Demko and how he performs over time.