Predicting Elias Pettersson's next Canucks contract
The Vancouver Canucks just defeated the Nashville Predators by a score of 5-2; three goals were the difference in that one. The player who happened to score a hat trick? None other than superstar and pending free agent Elias Pettersson.
There's been a lot of speculation about Pettersson and his next Canucks contract – more specifically, how much he'd cost and whether or not he even wants to stay in Vancouver. Some have postulated that the team has to convince the Swede to stay with their actions, not their words. That means an improved Canucks team and a lot more winning than what we've seen in the past.
So far, the Canucks have handled business in the latter department, but not the former. In the long-term – which means later this season – they're going to need something better than Mark Friedman on their second defense pairing. That's no slight on Friedman, but the talent deficiencies stick out like a sore thumb when compared to other Stanley Cup contenders.
What an Elias Pettersson contract might look like to Canucks
When it comes to tabling an offer to Pettersson, the Canucks have a few avenues worth exploring. The 24-year-old's current deal sees him carry a cap hit of $7.35 million, which is a modest total even compared to the $8 million that Jack Hughes makes. Would the Canucks be able to convince Pettersson that taking a team-friendly deal like Hughes – perhaps in the $9-9.5 million vicinity – will allow them to forge a better team around him?
If Pettersson gets his way, he might fetch a cap hit north of $11 million. In that regard, some comparables might include David Pastrnak's eight-year, $90 million ($11.25 million AAV) contract, and Auston Matthews' recent four-year, $53 million ($13.25 million AAV) extension. Both deals were inked within the last eight months, so that gives us and the Canucks an idea of what the superstar contract landscape is like at the moment. For all intents and purposes, the end result of negotiations probably falls somewhere in between the two options.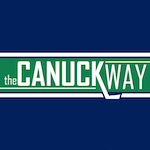 Want your voice heard? Join the The Canuck Way team!
Write for us!
It's quite likely that the next Pettersson contract is a big one, at least in comparison to his current deal. However, a team-friendly deal like the ones Jack and Quinn Hughes signed might be more likely than we think.