Canucks: Elias Pettersson has been very concerning, what happened?
When Elias Pettersson broke into the NHL in the 2018-19 season, he scored 10 goals in his first 10 games with the Vancouver Canucks.
The Swedish centre managed 28 goals and 38 assists for 66 points in 71 games in his rookie season. As a result, he won the Calder Memorial Trophy as the NHL's rookie of the year. He was the second Canuck since Pavel Bure in 1991-92 to be named rookie of the year.
The following season, Pettersson's success continued and he was establishing himself as one of the best players in the league. In 68 games he managed 27 goals and 39 assists for 66 points. He was on pace for 32 goals and 48 assists for 80 points. In the 2020 playoffs, Pettersson got seven goals and 11 assists in 17 games for the Canucks.
After a slow start last season, Pettersson managed to get back to form before a wrist injury sidelined him for the rest of the season.
At his best, Pettersson is an exciting and dynamic player who is an excellent playmaker and prolific sniper. He had speed, agility, and power. Vancouver became big fans of these things.
The underlying numbers not only showed how good Pettersson was offensively but they also showed how good he was defensively.
The eye test did too. Just look at this backcheck from him in the Canucks second-round series against the Vegas Golden Knights. He backchecked and stripped Max Pacioretty of the puck like he was a defenceman.
Flash forward to this season and Pettersson has looked like he lost his superpowers.
At 2:25 and 7:18 below, Pettersson's gave poor efforts on the backcheck which both led to the Blue Jackets scoring.
Pettersson's has dried up offensively as well. In 21 games, he has three goals and seven assists for 10 points. At even strength, he has a very low 0.4 points per game.
He is on pace for 11 goals and 27 assists. That's 38 points.
The Canucks had 41 shots. How many did Pettersson have? One.
At even strength, Pettersson only has two points. Yes, that's right two. Luke Schenn, who is a defensive defenceman has more points at even strength than Pettersson. Jason Dickinson,who is a player not known for offence also has more points at even strength than Pettersson.
Pettersson has not been good in the faceoff circle either. His faceoff percentage is at 36.2%. That is last among Canucks centres.
Per NaturalStatTrick, Pettersson has given up 60 High Danger chances against at even strength. That is third among the Canucks and the most among forwards. Pettersson is also 14th in goals-for percentage at even strength with 47.18%. He is below Schenn and Tucker Poolman. He is also 15th in High Danger goals for at even strength.
The rest of his numbers are don't look that bad especially his possession numbers. Most of them are in the top ten among all Canucks or just outside it. For instance, he is sixth on the team in Corsi for with 53.62%.
It's hard to watch Pettersson this season. Aside from the backchecks, he has been missing the net, bobbling the puck, making poor passes, and has been a ghost.
Pettersson is like Thor after Odin stripped him of his powers and ability to lift Mjolnir.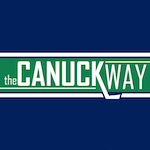 Want your voice heard? Join the The Canuck Way team!
Write for us!
What in the world happened to Pettersson?
Pettersson signed a three-year 7.35 million dollar contract before the season started and it is safe to say he is not looked like he's worth the money.
So what happened?
It certainly is not his wrist that is bugging him.
Perhaps all the time off has played a factor since he missed a big portion of last season due to the wrist injury and training camp and half of the preseason due to his contract negotiations.
We are now a quarter of the season and surely that is plenty of time for him to adjust.
Some could point fingers at Travis Green and his system. That could play a part as he doesn't look confident at all. The rumoured "rift" in the locker room could also be a factor. (Green said the rumour was "fabricated" before the game in Columbus.)
Maybe the pressure of being a star player in a big hockey market is getting to him? I sure hope not.
The main thing I have noticed from Pettersson is he hasn't looked confident. For instance, he has been very hesitant to shoot the puck, especially on the power play. He is waiting too long to pull the trigger.
This is what a confident Pettersson looks like. He just needs to grip and rip it.
A confident Pettersson also does his dekes. Man, do I miss this version of him.
We all know what Pettersson is capable of. When he broke into the league, he brought hope. It looked like the Canucks had a special player and one that will be the face of the franchise for many years.
What we are seeing now is a different player and it is very concerning. He has been tried at multiple lines and he still hasn't clicked.
This doesn't mean Pettersson won't be a great player for the Canucks, he still can be. After all lots of young players go through rough patches and Pettersson is only 23.
I'm sure he will figure it out and he has the tools to be one of the best in the NHL. Once he gets going, he is a force to reckoned with.
The only question now is how soon will Pettersson get back to his old self?