Canucks Prospect Report: Canuck hopefuls shine at training camp
As Vancouver Canucks training camp is nearing a close, several Canuck hopefuls have made their mark throughout the week. Let's take a look, shall we?
As we near the start of the 2020-21 NHL season, the Vancouver Canucks' opening night roster has begun to take shape, and it looks as though there will be some fresh faces in the lineup.
First and foremost, the star of the show at Canucks camp has been Nils Hoglander. Travis Green threw the young Swede straight into the fire, pencilling him into the top-six alongside captain Bo Horvat and Tanner Pearson.
Before camp, there was much debate regarding Hoglander's readiness for the NHL. So far, he's taken his opportunity and ran with it.
https://twitter.com/ChrisFaber39/status/1347014042158682116?s=20
Hoglander's exceptional edgework and elite hands as shown in the clip above is the most exciting part of his game. His blend of speed and skill gives Horvat's line a legitimate upgrade from Loui Eriksson while boasting another credible threat for the opposition while on the ice.
If Hoglander can put what he's shown into practice, the Canucks may have their answer for the top-six.
On the backend, Olli Juolevi has made himself a safe bet to make the team. Before camp, Juolevi's readiness was a serious point of contention; however, he has proven that he is finally ready to make the jump.
https://twitter.com/ChrisFaber39/status/1346197065030717441?s=20
Looking at his battle in this drill, Juolevi kept up with the flow of play and amply defended Sven Baertschi in this situation, with a skilful positional display and use of the body. It's apparent that his skating has improved enough to match his technical skillset, and is a lock to make the team out of camp.
Two other pleasant surprises at Canucks camp are Will Lockwood and Marc Michaelis. There wasn't too much buzz on the ex-NCAA captains coming into the week, but they have both made strides in their game to be depth options down the road.
Lockwood and Michaelis had great first scrimmages, where the latter finished the night with two goals.
On the VANCast, Thomas Drance elaborated on how Lockwood's camp performance affects his internal standing with the club.
"For Lockwood his skill level is there enough where I am curious to see how he does in the American League […] I think he has seized an opportunity, not this year, but to make a big impression that could matter in terms of how the club views him in years to come, and that's a big step for a prospect who's going to take some time to get to the NHL."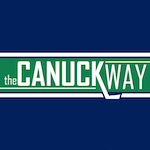 Want your voice heard? Join the The Canuck Way team!
Write for us!
Regarding Michaelis, he is what Drance referred to as "found money" for the Canucks. He has displayed an excellent overall skill set and even looks to be a potential taxi squad member. On the VANCast, Drance had high praise for Michaelis' first look with the pro club.
"I've been impressed by the wheels, I've been impressed with the details. I think if [Michaelis] can win face-offs at the NHL level he's got a real shot to have a long career, and that's a nice find [for the Canucks amateur scouts]."
Another player who looks to stick with the big club, at least for a little while, is Jack Rathbone.
Over the week, the Harvard defenceman has displayed the offensive prowess he has been praised for, while also showing that he still has some issues in his game that need to be ironed out, particularly on defence.
However, Rathbone is likely to begin the year on the opening night roster, although only to manage his cap hit.
Essentially, suppose Rathbone begins the year on the NHL roster. In that case, his salary bonus will be allotted to the Canucks' "bonus cushion" where it will not count towards the salary, keeping his cap hit at a manageable $925,000. If he were to start in the AHL, it would raise to $1.5-million, as his performance wouldn't qualify for the "bonus cushion".
An optimistic look at this situation is that Rathbone can have a quick cup of coffee in the NHL before gearing up for a shortened AHL season; however, that looks unlikely.
While some Canuck hopefuls have enjoyed great performances at camp, some have only seen limited opportunities, specifically Kole Lind and Brogan Rafferty. With the emergence of Hoglander and Travis Hamonic's signing, neither were given serious looks to make the team.
Although, Rafferty took some reps on Quinn Hughes' right side and took part in powerplay drills.
While Lind looks destined for the AHL, Rafferty could still feature on the taxi squad this season, as that decision remains to be seen. So, the silver lining is that they are poised to lead the Utica Comets once again.
The abundance of ice-time in the American League will allow them to develop their games further, and be the perfect stage for them to prove that they are ready for the NHL come next season.
So, as expected, this year's Vancouver Canucks team looks to see an injection of youth into its ranks, and they are ready to contribute from day one. How do you think the prospects performed at camp this year? Let us know in the comments!