Canucks: What could Elias Pettersson's next contract look like?
Vancouver Canucks superstar Elias Pettersson will need a new contract after next season, following the expiration of his entry-level deal.
The Vancouver Canucks find themselves in a well-documented salary cap crunch at the worst possible time.
This team is coming off its most successful season in nine years, having fallen just one game short of the Western Conference Final. In an ideal world, Vancouver would have a plethora of cap space to add to their core.
But that isn't the case, and there's no sense dwelling on it. General manager Jim Benning committed several questionable free agent signings and trades that put the Canucks in this cap crunch, and there's no easy way out.
Complicating matters is the fact that both centre Elias Pettersson and defenceman Quinn Hughes — by far Vancouver's two most valuable players — need new deals after next season, when their entry-level deals run up.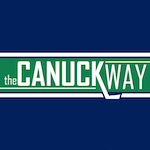 Want your voice heard? Join the The Canuck Way team!
Write for us!
The 22-year-old Pettersson had 28 goals and 66 points in his 2018-19 Calder Trophy winning campaign. He followed it up with 27 goals and 66 points in 2019-20. Clearly, he's a capable point per game player who's only going to get better from here.
When it comes to his next contract, Pettersson has three options. He can either look to max out right away and sign his first long-term contract (something that would surely pay him $10 million or more annually), take a short-term bridge deal (two or three years) or something in the middle. Example: Auston Matthews's five-year, $58.17 million deal with the Toronto Maple Leafs.
If Pettersson were to sign a long-term deal, the guess here would be a seven-year pact worth around $80 to $85 million — seeing how much the market has jumped for established All-Star centres.
For the Canucks, the best case scenario would see Pettersson agree to a short two or three-year deal as they try to maneuver through a difficult salary cap situation. He can take a minor pay cut but also set himself up for the opportunity to increase his value when it comes to the next contract.
This worked beautifully for Tampa Bay Lightning star Nikita Kucherov. He signed a three-year, $14.3 million bridge deal in 2016. Having outperformed his contract, Kucherov signed a mammoth eight-year, $76 million extension in the 2018 offseason.
And Pettersson's teammate, Brock Boeser, took a three-year bridge deal worth $17.625 million before the start of last season. If Pettersson were to go the bridge route, I'd expect a higher average annual than Boeser's ($5.875 million).
An average annual value of around $7 to $9 million seems fair. If it's a two-year pact, maybe a total of $18-20 million gets it done. If it's three years, something in the neighborhood of $21 to $28 million seems reasonable.
There's plenty of time for Pettersson and Benning to work on a new deal. One way or another, the Canucks' franchise star is about to receive a massive raise that will force the front office to clear much-needed cap room.