The Canuck Way Mailbag: Virtanen, Malone, the defence, more
The Vancouver Canucks had a busy week signing Jayce Hawryluk, Adam Gaudette and Jake Virtanen to team-friendly deals. That and more in this week's mailbag!
The Vancouver Canucks finally checked some boxes on their offseason to-do list. General manager Jim Benning re-signed Adam Gaudette and Jake Virtanen to budget-friendly contracts, and he signed free agent Jayce Hawryluk to compete in the crowded bottom-six.
Now, all he has to do is clear some money before next season begins. With the buyout option off the table, he will be left to twist another general manager's arm to take on Brandon Sutter or Loui Eriksson's contracts in a trade.
Hopefully, he won't have to give up a first or second-round pick to do it. Most GMs seem reluctant to take on bad contracts in this flat cap world, so it's looking more and more likely that those salaries will be buried in the minors to start the season.
Ideally, Benning is able to find a suitable trade partner, and improve his defence and top-six with another signing. Though at this point, it's looking like Virtanen will be replacing Tyler Toffoli and one of Olli Juolevi, Jack Rathbone or Brogan Rafferty will be filling Troy Stecher's shoes on defence.
It should be interesting to see what happens in the next couple of months. With what Benning has right now, he could ice a salary cap compliant roster by burying contracts in the minors and sending Micheal Ferland to long-term injury reserve (LTIR). However, that still won't give him much room for injuries, but that's a discussion for another day. Right now, let's get to some of your questions!
If the Canucks do not make any more moves this offseason, they will be facing an uphill battle to make the playoffs especially if they are in the rumoured all-Canadian division. Nate Schmidt will help their transition game, but he's not the penalty killer Chris Tanev was, so that could lead to more goals against on the power play. The uncertainty of having a rookie and the underwhelming Jordie Benn on the bottom-pairing could be concerning as well.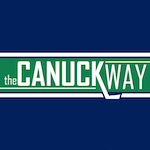 Want your voice heard? Join the The Canuck Way team!
Write for us!
The top-six right now is banking on Virtanen and his ability to step up offensively, which is not ideal given his history in that role. The bottom-six should be bolstered by Hawryluk's presence, but it's still a crowded smorgasbord of unknowns. In a perfect world, Virtanen is on the third-line with Gaudette and Nils Hoglander and a more proven goalscorer is playing alongside Bo Horvat and Tanner Pearson.
So to answer your question, I think they are going to finish in the same position as last season, fighting for a wild card spot. Ultimately, I think there's enough talent on the team to barely make the playoffs, but it will be a battle right to the end.
Though unlike last season, the Canucks are gambling on a lot of unknowns in their lineup, especially on defence. If the rookies are not ready, the defence core is worse than last season, and if injuries rear their ugly head, I'm not sure they have the depth to survive any significant losses to their top-four.
If by some miracle Benning is able to move out Sutter and/or Eriksson's contracts, I think he will make one more signing or trade to bolster the Canucks' bottom-pairing. Players like Slater Koekkoek, Andy Greene or Oscar Fantenberg could fit the bill as affordable additions that should strengthen a defence that doesn't really have a lot of experienced depth right now.
At this point, especially with the flat cap being a thing for the next couple of seasons, I think both Quinn Hughes' and Elias Pettersson's contracts will be bridge deals rather than long-term ones. So, instead of the eight-year $10 million AAV cap hits, they could come in as three-year $5 million AAV contracts, similar to the deal Nikita Kucherov's signed just before the 2015-16 season.
By the time those deals are over, Benning will be rid of all his bad contracts and should be freed up to sign Hughes and Pettersson to long-term deals. One thing is clear though, they are the future of this team and should be kept around as long as possible, no matter the cost.