Canucks: 3 players who need to overcome the critics
Olli Juolevi
Faith was lost by a lot of people when Olli Juolevi was seriously injured on back-to-back years. Not only was he badly hurt both times, but he also needed surgery on each occasion. First, it was his back. It was a case of offseason training gone wrong that eventually forced him to go under the knife. The rehab has long and difficult and put him behind schedule for the following 2018-19 season.
Despite the critics, Juolevi shot out of a cannon and had himself a tremendous offensive start to that year. He posted 13 points in his first 18 games and looked better than ever. Unfortunately, he got injured yet again and it required him to get yet another serious surgery. This time, Juolevi's promising season was ended with an operation to repair his knee.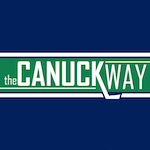 Want your voice heard? Join the The Canuck Way team!
Write for us!
After that, Juolevi did everything in his power to get back on track, but many people doubted his ability to actually be able to pull it off. One major surgery can be enough to end someone's career in sports, how could be possibly survive having two? However, the determined Juolevi did his time in rehab and fought through additional hip soreness in order to keep pushing the needle forward.
He played 45 games for the Utica Comets in the AHL last year and he performed well above expectations when he joined the Canucks inside the Edmonton bubble. Green liked what he saw from Juolevi enough to dress him for his NHL debut. Juolevi played just over six minutes, didn't make any mistakes and helped the Canucks eliminate the Minnesota Wild and punch their ticket into the Stanley Cup Playoffs.
"Juolevi looks ready to play in the NHL full-time," said Jim Benning on Sportsnet 650.