Canucks: 3 takeaways from monster win vs. St. Louis Blues
The Vancouver Canucks and the St. Louis Blues went head-to-head in game 1 of the opening round of the 2020 Stanley Cup Playoffs. Here are three takeaways.
The time has come. After a five-year Stanley Cup Playoffs drought, the Vancouver Canucks earned a seven-game series with the defending champions, the St. Louis Blues. It didn't come easy, but the Canucks took care of the Minnesota Wild and looked determined to bring the same intensity to the round of 16. Here are three takeaways from the 5-2 triumph over the Blues in game 1.
Bo "Captain Clutch" Horvat
Talk about an all-out performance from the Canucks 14th captain. Bo Horvat knows he needs to be a difference-maker in this series and he didn't disappoint in game 1. He found himself on the scoresheet twice with two absolutely clutch goals, and nice ones too. They were pretty.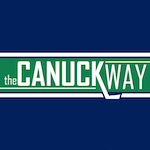 Want your voice heard? Join the The Canuck Way team!
Write for us!
Everything in his game was nearly perfect. From his stickhandling down low all the way to his defensive game in the other end, he was what every team wants from their captain. Four total shots, adding some physical play without the puck and a total of 20 minutes on ice.
He's the type of player with a ton of heart, never afraid to go for the big sweeping dangle, but often he can't quite finish. This time was different. Rushing in over the blueline he pulled off a terrific sweeping move around the defender and polished it off by sniping the corner and bulging twine. A+ game from No. 53!