Canucks Training Camp: Juolevi, MacEwen, Ferland, Markstrom
The Vancouver Canucks had an eventful first week of training camp. Here is everything you need to know about what happened at Rogers Arena this week.
The Vancouver Canucks are back in full swing, and no, it's not on the golf course. The Canucks have returned to Rogers Arena for their second training camp of the season and it appears they remain keen on delivering their promise of making the 2020 NHL Playoffs.
The first week of camp has come and gone, and with it, the Canucks' 34-man roster has begun shaking off the rust, pulling out the cobwebs, and preparing for a long and arduous journey towards Vancouver's first-ever Stanley Cup championship.
As the Canucks get ready for their second week back in action, here are the things you need to know about what's happened so far. From Jake Virtanen's sluggish start to Jacob Markstrom recording shutouts, it's all here. Let's get after it.
Zack MacEwen is turning heads
The "Big Fella" Zack MacEwen looks more prepared for the NHL's Return-to-Action plan than anyone else on the Canucks team. Whatever he was doing between now and the NHL's initial shutdown is definitely showing up in his overall game on the ice and he should continue using whatever motivation he has.
Not only has he been noticeable in comparison to the team's Black Aces, but the Charlottetown native is keeping his head above water when it comes to keeping up with the Canucks' main roster. He's even impressed Travis Green enough to hop Virtanen on the depth chart, making himself a third-line right-winger instead of an extra skater.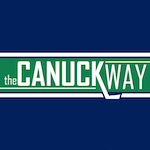 Want your voice heard? Join the The Canuck Way team!
Write for us!
Through three scrimmage games, MacEwen has registered two goals and they've both been the best goals out of the entire camp so far. His first one was a very beautiful wrist shot off the rush that came from a crispy clean Bo Horvat pass just before whipping the puck over Markstrom's right shoulder to bulge twine.
The second goal he scored was even better. Sneaking in on a line with Elias Pettersson, MacEwen found himself wide open back door for a jaw-dropping cross-crease snipe that beat a helpless Thatcher Demko. He's bringing a kind of heart and soul style of play that simply can no longer be ignored.
Micheal Ferland plays a full scrimmage
After being announced "unfit to play" for the first few days of training camp, the Canucks got a big boost of morale when Micheal Ferland was injected into the lineup for a Sunday night scrimmage.
The 28-year-old who missed 55 games with a lingering concussion has been back skating with the team since Wednesday as a member of the Black Aces, but now thanks to the right slow and steady approach, Ferland successfully completed his first full scrimmage.
Considering he's barely had the opportunity to break in his gameday Canucks jerseys this year, Ferland is looking good and shaking off the rust along with everyone else. His conditioning isn't quite up to snuff, but the baby steps are working in Ferland's favor and he's showing positive signs at each turn along the way.
Remaining symptom-free will be what's most important for Ferland in the coming days, but he's already not afraid to get physical. Clearly, he's not out there trying to take people's heads off, but each and every day he pushes back just a little bit harder.
Olli Juolevi is getting valuable experience
Between the time of being drafted 5th overall in 2016 to now, Olli Juolevi has dealt with a plague of serious injuries limiting him to playing only 149 games over four years. It feels like it's been forever, but Juolevi is finally getting some valuable experience with the Vancouver Canucks.
That's what this entire Black Aces experience is supposed to do for him. He needs ice time, and he's receiving it. He's been a part of camp since day one, he's participated in a couple of main roster practices, and he's even been spotted putting in extra time after practice.
He hasn't looked particularly great so far, but he hasn't looked completely out of place either. His foot speed and pivoting come into question when he's facing a more skilled opposition, but when he was up against Quinn Hughes during 1-on-1 battles around the net, he seemed to hold his own.
At this point, I wouldn't look too far into him making his NHL debut this season (unless COVID-19 eliminates players from contention), but this whole experience will go a long way in his overall development.
Jacob Markstrom slowly returns to form
After a minor surgery was performed on his knee to repair a torn meniscus, Markstrom showed early signs of struggle in his return to the crease. Worrying fans across the nation, early on he looked sloppy, slow, and sometimes just plain brutal.
It's completely normal for goalies to come to camp feeling cold. Roberto Luongo is a prime example of a cold October goaltender, and look at how well his career turned out. He's a bonafide tier 1 future Hall of Fame goaltender. But for everybody who's still worrying about the performance of Vancouver's MVP so far, Markstrom has already taken it upon himself to silence the doubters.
After being on the losing end of three straight scrimmages, Markstrom reminded everyone why he's one of the best goaltenders in the National Hockey League. Shutting the door in style, Markstrom stopped every single shot he faced, helping team blue to a big shutout victory.
Markstrom is back, the Canucks are back, and the city of Vancouver is excited and over the moon for the 2020 NHL Playoffs to commence.