Canucks: 5 questions ahead of Stanley Cup play-in series
The Vancouver Canucks will play in the Stanley Cup Playoffs for the first time in five years if they defeat the Minnesota Wild. Here are 5 questions for the series.
The Vancouver Canucks were on the verge of playoff contention before the shutdown but now they'll face off against the Minnesota Wild in a best-of-five play-in series. Assuming everything goes according to the latest plans set by the NHL, training camp should reopen on July 30th, and meaningful games should follow a couple of weeks later.
A return to hockey could be just five weeks away, but with that remains a handful of questions. The NHL's website just released a list of their own, which only sparked more questions around the Canucks that need answers. The Canuck Way is here to dive into what matters most before this very important series. Here are five burning questions for the Canucks before they battle the Wild.
1. Does Bo Horvat have what it takes to lead the Canucks past the Wild?
Successful in his first regular-season as captain of the Canucks, Bo Horvat will now face the true test of leading his team into playoff-like battle. Call it what you want, but one way or another Vancouver has a dance with Minnesota in a best-of-five series to determine who gets a playoff spot in the final 16.
Putting up career statistics this season on a point per game basis with Loui Eriksson on your line is never an easy challenge. Horvat accomplished just that and was pacing for 63 points this year. His "hard on the puck" style shows grit and he should be a welcome addition during battle this summer and with a newborn baby on the way, he'll be more than ready to put on a show.
2. Will Elias Pettersson be able to handle the pressure of the NHL playoffs?
Up to this point, Elias Pettersson has handled the pressure. He eats and sleeps pressure. The only problem heading into the important play-in series is that the fans of his game have never seen his fragile frame in an NHL playoff game. It's no Swedish league hockey and things can get pretty darn rough out there.
Don't get me wrong, Petey has come a long way in his physical appearance and abilities over the last two years, but he'll be on the NHL's Most Wanted list when the puck drops. Hockey players will die for the Stanley Cup and stop at nothing to obliterate anything in their path. He best keep his head up.
To this point, Pettersson has overcome any challenge placed in front of him and that's enough reason to believe he can carry his own weight in the playoffs. It may take an adjustment or two, but Pettersson is the kind of player who will work on his weaknesses until they become a strength. There is a possibility for growing pains, but don't bet against Petey to be the best player on the ice.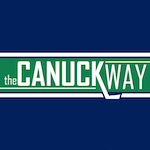 Want your voice heard? Join the The Canuck Way team!
Write for us!
3. Can Jake Virtanen be a difference-maker in the playoffs?
Breakout season? Look no further than Jake Virtanen. 36 points. 18 goals, 18 assists. He's arrived as an NHL power-forward for the Canucks and now he's ready to put it all to the test. A slow and steady build on this guy is finally paying off and he'll get his opportunity to showcase if he can be the big-body playoff performer everybody is hoping he can be.
If the regular-season is any indication, Virtanen should thrive if used correctly. If you've seen his best plays of the year, you'll know he uses a good mix of speed, size, hard hits, and quick shots.
If it were me, I'd find a way to play Virtanen and J.T. Miller on the same line. He's already learned a ton from the Canucks' leading scorer and he'll be a peak performer if the two hit the ice together. Miller has a way of getting the best out of teammate Big Tuna, and Jake should do whatever he can to be a truck for Vancouver.
4. Do the Canucks have enough veteran presence to win?
No. At least that would have been my answer from two seasons ago…
Now, however, the Canucks have actually done a considerably decent job finding and adding a supporting cast of players with playoff experience. You see, the Canucks core is young and with that comes zero exposure to the NHL playoffs. Benning knew that as he was the man who drafted them, and he did everything in his power to support those players when the time came.
It began with the acquisition of Tanner Pearson near the 2019 Trade Deadline. A Stanley Cup winner in 2014, the 27-year-old Pearson brings a respectable two-way game. He's a 50-point player on a good year, and he's shown great chemistry with Horvat. A year later, Benning traded for his former linemate Tyler Toffoli. The two won a championship together and are also great friends off the ice.
Next was the addition of Miller at the draft. A 200-ft player under a very reasonable contract that had seen the playoffs in each and every one of his NHL seasons. He's been bred a winner and he excepts nothing less. Tack on the fact that he led the Canucks in points this year and trust me, his 61 playoff games will go a very long way.
Miller, Pearson, Toffoli, Jay Beagle. Alex Edler, Chris Tanev. That's the valuable playoff experience they have. It's not perfect by any means, but it'll be enough to get the Canucks into round 2.
5. Will Brock Boeser start scoring goals again?
He hasn't exactly become the 30+ goal guy people expected him to be after his rookie showing, but there is still plenty of reason to believe that Brock Boeser can return to form and be a lethal finisher for the Vancouver Canucks in the playoffs.
He plays on one of the best first lines across the league. The Lotto Line is an offensive juggernaut that holds an incredible Corsi For of 58.38%. They doubled their opponents in scoring at 5-on-5 year and showed capable of breaking down even the league's most defensive teams and players.
His quiet season behind Miller and Pettersson can be used to the team's advantage. He was sadly a third-wheel option behind them all year, but now healthy and ready to return, he can be the unexpected finisher that rises above the Wild and helps the Canucks into the final 16.
He's had a long offseason to rehab and train to be in game shape. His injuries of the past are long out of the way now and he should 100% crafting his signature wrist shot. He'll need the support of the Lotto Line along with help from the rookie blueliner if he wishes to completely blow things out of the water, but playing against his hometown team should be enough of a motivational boost to get him started.