Canucks: What to expect from Tyler Myers in the playoffs
A monster amongst men, the presence of Tyler Myers on the blueline will be a welcome addition for the Vancouver Canucks in the 2020 Stanley Cup Playoffs.
The towering Tyler Myers proudly patrolled the Vancouver Canucks' blueline this season, and his teammates will be very thankful to have him watching their backs once playoff hockey gets going.
Jim Benning has had the desire to sign Myer's since his arrival as the Canucks' general manager back in 2014. Benning was rumored to have an interest in him before being traded to Winnipeg in 2015, and he didn't want to miss out again on signing the 6'8 giant as a UFA. With promises of change to the Canucks' blueline coming from Benning, $30 million dollars was the price agreed upon to get the deal done between Myers and the Canucks.
A very happy Benning finally retrieved the size and speed of a talented puck-moving defender that he so desperately craved, and the Canucks were better equipped to handle bigger and nastier teams. A full season of Myers in a Canucks uniform is proof of that. His protection was noticed by his younger teammates during the season and his big frame and fast skates will be well-suited for playoffs.
Playoff experience
With five trips to the post-season under his belt, Myers will be one of the players with more playoff experience than most of his teammates. 39 games of playoff experience to be exact, a total of 15 points (seven goals, eight assists) and a trip to the 2018 Western Conference Finals are what comes from his NHL playoff resume.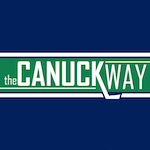 Want your voice heard? Join the The Canuck Way team!
Write for us!
In back-to-back seasons with the Buffalo Sabres, he was unable to escape the first round, but he managed to score a total of seven points (two goals, five assists) in 13 games. Four years later, after missing the playoffs for consecutive seasons, Myers fell again in the first round playing for the Jets but returned again in 2018 for a bigger and longer run, followed up by another first-round exit in 2019.
Known best for his involvement in the Winnipeg Jets trip to the Western Conference Finals of 2018, Myers will need to bring that same big-body/big-hits mentality he earned when he was partnered up with fellow bone-crusher Dustin Byfuglien. When playing together the two were like the Devil's favorite demons. Hit after hit they'd lay out anyone who'd dare cross the blueline.
What to expect
Myers is a player who comes as advertised. He's good, but he's not great. At least that's how it was for him during his first season as a Vancouver Canuck. Can we expect the same version of him in the playoffs? Probably. And that's not necessarily a bad thing. He saw his fair share of positives while playing in blue and green this year.
With a rise in playing minutes for big-time defenders during the playoffs only becoming more of a thing, expect Myers and his team-high $6 million dollar salary to be stapled somewhere inside the Canucks' top-four. Playing alongside either Alex Edler or Quinn Hughes, Myers can act as the second defender and be free to bring a mixed bag of hard hits, fast skates, crisp passes, and a howitzer of a slapshot.
In terms of defense, the Wild have the upper hand on paper, but if Myers can up his game and play to his full potential, he has enough weight to throw around and tip the scales in the Canucks favor. As long as Travis Green doesn't give Myers his own pairing to run, the tall and lanky blueliner should be able to handle his own defensively. It's his size, speed and puck-moving ability that will help push this team past the Minnesota Wild and into the final 16.
He's a big boy, and he's got the mean streak deep within. When the time is right and he needs to step up for his teammates, Travis Green will look to him for a response. If Elias Pettersson or Hughes takes a dirty hit, expect Myers to be the first guy there to answer the bell.