Canucks: How will Micheal Ferland fit in when he returns?
Micheal Ferland's recent absence has been felt by the Vancouver Canucks and he is set to return soon. When he returns, where will he fit in?
One goal, two goals, and all the way up to nine goals. That was the story of the Vancouver Canucks against the Tampa Bay Lightning on Tuesday, as they fell 9-2, thus ending their season-high seven-game win streak.
Although the team has been playing well as of late, there are a few things which could improve the on-ice product. An absence for the entire winning streak was 2019 free agent signing Micheal Ferland, who has been on the long-term injury reserve ever since sustaining a concussion in December. Ferland was signed to be a skilled and physical presence on the second and third line, something that the team is missing right now.
When he's been in the lineup, Ferland has played on a line with Bo Horvat and Tanner Pearson. That is where he was destined to play when he signed, and through his brief appearances this year, it seems to have worked.
He has five points in 14 appearances, but some of those games have been cut short by injury. His offensive success thus far — combined with his toughness in the defensive end — proves that Ferland is a missing piece for Vancouver.
So what can the team hope to get from Ferland when he returns? He is likely to come back with the same fight and attitude, but the question is how is it going to help the team in their current situation?
Taking a look at the roster as it stands, it looks very familiar to other years, where the scorers are not the ones putting in the hard-hitting elements of the game. Sure, Elias Petterson is an All-Star and is dedicated defensively, but he's not the physical force that Ferland is when it comes to puck retrieval.
If Ferland comes back into the second line, he and Horvat could become one of the best forechecking lines in the entire league.
If he finds himself on the third line, his fight combined with Jake Virtanen's speed is bound to create havoc for opposing defenders.
As has been spoken about before, the Canucks fourth line has been tremendously outplayed by their opponents. A line which is supposed to be physical and thus retrieve the puck has struggled to do so, leaving the scoring lines with a tougher task.
Head coach Travis Green has always liked the idea of having two checking lines, but he's come to a recent realization that the third line can also score, hence the arrival of Ferland.
But with all that being said, Vancouver been winning plenty of games. So even though Ferland is a better player on paper, there may not be a spot for him in the top three lines, therefore we have to look at the fourth line.
If he slides onto the fourth line, he brings a more positive contribution than Tyler Motte or Tim Schaller, one of whom would find their way into the press box. While it may not be the best look for a new signing to go to the fourth line, it could be the best place for him as well as the team.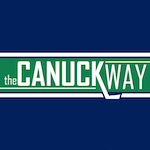 Want your voice heard? Join the The Canuck Way team!
Write for us!
Ferland has only played over 15 minutes in one game this season, and the 27-year-old is clearly a more delicate player than he has been in past years. The fourth line would allow him to contribute while he's on the ice, even though that may not be very often. As much as the Canucks would have liked to see Ferland be their second-line winger, it seems as if that boat has sailed away.
His presence on the fourth line could be very effective, and it would display the club's strong forward depth compared to recent years.
Looking at the upcoming schedule, there aren't many menacing and physical presences on the opponents, which should allow Ferland to focus on his offensive contributions rather than putting himself in riskier situations that could injure him again.
While the nine-goal disaster is in the rear view mirror, the addition of Ferland on any line could make sure that something similar does not happen again.