Why this is Canucks forward Jake Virtanen's year
After showing great flashes of speed and greatness, this is going to be Vancouver Canucks forward Jake Virtanen's year.
Jake Virtanen might not have started this season the way he would have liked, being in the dog house of coach Travis Green for not reaching the goals set for him in the offseason; but through his first 17 games this season, Virtanen has been impressive netting five goals and having three helpers.
Looking at this time last year he did have the same amount of points but one more goal. So the question is what makes Virtanen look different this year from other years. The first thing that stands out is the work he has put in without the puck.
Virtanen has blocked 9 shots so far this season which might not be a lot but considering last year he only had a total of 37 means that he is starting to stand in the shooting lanes more and willing to sacrifice his body to make sure the puck doesn't get to the net. Virtanen has been better with his stick as well using it to block passes and poke the puck away instead of taking the body which also takes him out of the play.
With the puck Virtanen is using his speed in the neutral zone to back the defence up or uses the boards to bank the puck to himself and goes around the defender instead of trying to deke at the blueline. Virtanen has also been more patient with the puck this year, instead of shooting the puck once he gets across the line he is learning to find open teammates and make a play.
Virtanen is also starting to take advantage by utilizing his power-forward frame and is starting to drive towards the net or forcing his way into the dangerous scoring areas. Although I have only really noticed him doing it the last couple of games I hope it's something that he continues to do.
Although this has been a great start for Virtanen he could benefit more by doing a few more things. His physical presence hasn't been noticeable every game but I do think if he did more dump and chase plays and was the first man in for the forecheck he can gain some of that energy he gets from it. I do think much like the last goal he got, having more of a net presence could be good as well and he can show how good his hand/eye coordination is as well as using his strength to get those rebounds.
The most interesting part about Virtanen this year is that he has played most of his time five on five, having played just under two minutes on the power play so far and he was on the ice for the last moments of a penalty kill for a game as well.
His average ice time is down by almost three minutes so far this year and could benefit from some special teams ice time. He has proven to be more defensively responsible and could be a good addition to a penalty kill unit and might be able to make it a little more aggressive like we have seen other teams be on the penalty kill.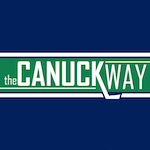 Want your voice heard? Join the The Canuck Way team!
Write for us!
Hopefully this will be the year Virtanen can hit the 20 goal mark and start to be the power forward he was thought to be when he was drafted.