The resurrection of Canucks forward Brandon Sutter
Vancouver Canucks forward Brandon Sutter has had a great start to his 2019-20 campaign. He has already matched his goal total from last season.
It's amazing what four weeks can do. Just ask Brandon Sutter and the Vancouver Canucks.
In early October, every Canucks fan and pundit alike were running him out of town. Leading up to the season, one may have had better success finding a fan with the stones to rock a Mark Messier jersey over one with Sutter on the back.
It was that bad.
Fourteen games into the season, however, and Sutter has arguably become the biggest surprise through the early stages of the year. Sure, J.T. Miller and Thatcher Demko may disagree, but there is a strong case to be made.
The Outrage:
The fight against Sutter hit a boiling point when management opted to place wingers Nikolay Goldobin and Sven Baertschi on waivers in early October. Offseason acquisitions with a higher pedigree pushed Goldobin out of the lineup, but it was the latter being sent down that became the talk of the town.
Baertschi was coming off an injury-riddled season, limited to just 26 games, but showed promise on a 44-point pace with potential to belong in the top six. Sutter, meanwhile, was coming off one of his most unproductive seasons in years in registering a mere six points in limited time.
His $4.375M cap hit was significantly higher than Baertschi's $3.366M, and showed zero potential to move out of the bottom six. He also struggled as much as Baertschi to stay healthy in being limited to an identical 26 games.
The outrage was assuredly justified. But in the time since the controversial move, Sutter has become a key contributor in the teams' bottom-six group.
The Resurrection
Through 14 games Sutter's four goals have already matched last season's numbers in 12 fewer games.
And while early-season goal totals can often be construed due to inflated shooting percentages, Sutter's 12.1% in comparison to his career 10.6% rate is a promising figure in showing there's limited room for regression.
His offensive output also goes hand-in-hand with the playing time he's been receiving. Last season Sutter received an abysmal 27.9% of offensive zone starts – something typical of what one may expect from a more defensive-minded forward.
This season, however, Sutter has been gifted with a plethora more of scoring opportunities. Travis Green has rewarded Sutter with 53.8% offensive zone starts, a far cry from last season and from his career clip of 37.1%.
Under the microscope
The biggest question marks around Sutter's play coming into the season revolved around his offensive abilities. 14 games into the season and he has emphatically provided some answers.
But on the other side of the puck, Sutter has been a staple on the team, particularly on a number one penalty-killing unit that ranks third in the NHL at 88.2%. More closely examining his numbers this season, and his improvements show beyond just the point totals.
When reviewing Sutters even-strength Corsi, which ranks the percentage of time the Canucks control play with him on the ice, his numbers comes in at 47.2%, 15th on the team. This does not necessarily indicate poor play, but does mean more often than not Sutter's opposition are the controlling the puck.
While it's by no stretch of the imagination a promising number, it is still a huge improvement from last season's 41.3 CF% that ranked ahead of only Jay Beagle amongst Canucks regulars. Sure, the bar was low, but Sutter is continually improving his play across the board.
Conclusion
Brandon Sutter is currently enjoying himself a season. His offensive numbers have shown a lot of promise, winning over more skeptics and fans each waking day.
If he can sustain even remotely similar numbers through the next stages of the season, while also steadily improving on the defensive side of his game, Sutter will continue to become a valuable piece on the Canucks third line and within the bottom six.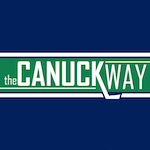 Want your voice heard? Join the The Canuck Way team!
Write for us!
Or, at the very least, an intriguing trade piece moving forward.