Vancouver Canucks fans want their goal song back
Vancouver Canucks fans noticed early on that the team's regular goal song, Holiday, has been replaced by a new song.
Songs and goal songs are important threads in the fabric of an NHL hockey team. They give fans a tangible asset to connect to, and a representation of the team that can come across in daily life.
The Vancouver Canucks went through a period of time where their music selection captured the hearts of fans, but in recent years, they have lost that nostalgic factor. However, there is a vocal group that is taking action to get these nostalgic melody's back pumping through the speakers of Rogers Arena.
The songs come from the most successful spell in the team's history, the late 2000s and early 2010s. While the goal song is the main campaign, there is also a drive to bring back to the introductory warm-up song.
The goal song, which was "Holiday" by Green Day left the loudspeakers after the 2012 season, and left many fans wanting it back. Since then, the club has had multiple different approaches to the goal song. There were the custom goal songs, where each player had their own, much like they do with walk-up songs in baseball. The team also tried other songs that they hoped would have invigorated the fanbase. None of these approaches worked, hence why Canucks fans have begun to lobby for the old tune.
A Twitter user under the handle @famousgoalhorns has been the leader of this campaign and has set up an online petition with the goal of getting the song back. The owner of the account posted a twitter exchange with Canucks' DJ Barron S, in which the DJ said that the organization will change the goal song back to holiday if the petition collects 50'000 signatures. At the time of writing, it had 1,159.
I spoke to some Canucks fans, and many shared similar sentiments about the goal song, even if they had not come across the aforementioned survey.
"That song was integral to my upbringing. It is something that will always give me shivers down my spine. " said Ben Chandler, a Canucks fan who is very passionate about the campaign. After that, he went on to speak about how having such an identifiable song can help fans feel connected to the club, something he has not felt in a number of years.
While the "Holiday" goal song is the current campaign, don't be surprised if there is a push to bring back U2's "Where the Streets Have No Name" as the intro song.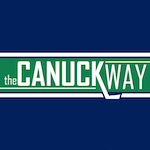 Want your voice heard? Join the The Canuck Way team!
Write for us!
If Canucks fans are able to rally together and collect enough signatures to make this dream a reality, it will be groundbreaking for the hockey team, who has become notoriously known for not taking the public's thoughts into account.