Vancouver Canucks: David Pope's long journey rooted in B.C.
Yesterday, the Vancouver Canucks shipped out defenceman Alex Biega to the Detroit Red Wings in exchange for forward David Pope. Pope's long journey began in the BCHL.
While the trade the Vancouver Canucks pulled the trigger on last night was viewed by most as a minor league transaction, David Pope will have every opportunity in Utica to prove himself as the promising young player the Detroit Red Wings once considered him to be.
The Edmonton native made a name for himself in the BCHL with the West Kelowna Warriors, where an impressive 2012-13 sophomore campaign in the BCHL caught the eye of Red Wings scouts.
Pope was taken by Detroit that year in the fourth round (109th overall) and returned to West Kelowna the next season, where he put up career highs in goals and assists, earning second-team All Star honors along the way.
The following year went less swimmingly for Pope, who struggled to find his game at the University of Omaha-Nebraska. Through his freshman and sophomore seasons, Pope put up a meager 22 points in 64 games for the Mavericks.
But Pope persevered and hit his stride during his last two years at Omaha, totaling a remarkable 72 points in 69 games played. His senior year, Pope was named an NCAA first-team All Star, prompting Detroit to reward Pope with a two-year, $925,000 contract in 2018.
The organization was hopeful that Pope could make an immediate impact in the NHL on a team that desperately needed scoring depth.
A lackluster training camp, however, found Pope starting the 2018-19 season with a talented Grand Rapids Griffins group that included the likes of Filip Zadina, Chris Terry, and Givani Smith.
Buried in the back of the lineup, Pope produced 3 points in 28 games before being sent down to the Griffins' ECHL affiliate, the Toledo Walleye, for the rest of the season. Here, he was finally able to find some professional success as he saw the Walleye into the ECHL Finals with a solid 13 pts in 20 playoff games.
The 25-year-old's 6'3″, 205lb frame certainly allows him to fill the hard-checking depth role that every team requires, but whether he can play consistently remains to be seen.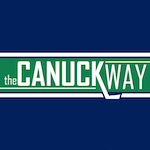 Want your voice heard? Join the The Canuck Way team!
Write for us!
Either way, he is a player who should benefit from a change of scenery and could prove to be an impactful asset for Trent Cull and the Utica Comets. Perhaps you'll even see him in a Canucks jersey down the line.