Petrus Palmu won't return to TPS, or the Vancouver Canucks
Questions arose after Vancouver Canucks prospect Petrus Palmu wasn't included at the team's prospect development camp earlier this week at Rogers Arena. It turns out, the Finnish winger will be heading back to Europe this season.
Things haven't gone according to plan for the Vancouver Canucks 2017 sixth-round pick Petrus Palmu. After putting up 98 points in his draft year with the OHL's Owen Sound Attack, many believed that the undersized Palmu could potentially turn out to be a late-round steal for the Canucks.
This belief grew stronger after Palmu went back home to Finland in 2017-18 to play for TPS Turku in the Finnish Liiga, where he scored 17 goals and tallied 19 assists. Fans were excited to see what Palmu could do when he came over to North America to play for the Utica Comets in the 2018-19 season.
Unfortunately for Palmu, he only lasted 12 games with the Utica Comets before the Canucks agreed to loan him back to TPS to play out the rest of his season. Through 12 games in Utica, Palmu managed to pick up just one assist.
The loan to TPS expired at the end of this season, so it was expected that the 22-year-old winger would be back at training camp and be competing for ice time down in Utica. It turns out, that's not the case.
On September 4th, The Athletic's Thomas Drance received confirmation from Canucks general manager Jim Benning that Palmu will be playing in Finland this upcoming season. The story didn't end there though, as Drance further stated that Palmu won't be returning to TPS Turku next season. That means he needs to find a place to play, and it won't be in North America.
Cam Robinson of Dobber Prospects said the following regarding Palmu:
I'm sure Palmu would love a chance to prove himself in the KHL, but that's probably not a real option. I could see him snagging a spot on a lower-end SHL club if he wants to increase the QoC
Further, Drance stated that Palmu's agents are in contact with teams in various European leagues. We don't know where he'll end up yet, but it's safe to assume that Palmu won't be returning to North America for quite some time.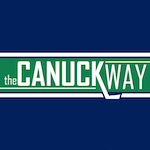 Want your voice heard? Join the The Canuck Way team!
Write for us!
The Canucks will still hold Palmu's NHL negotiating rights at the expiration of his ELC at the conclusion of the 2020-21 season, similar to how they still hold the rights of Nikita Tryamkin, whose ELC expired at the end of the 2016-17 season. Where do you think Palmu will play this season? Let me know in the comments section below!
UPDATE: As per Sportnset 650's Rick Dhaliwal, Palmu's agent, Todd Diamond, says that Palmu will likely play in Finland this season, then report to the Comets at the end of his season. That would mean sometime in mid-March, unless Palmu's club he signs with makes the playoffs.