Vancouver Canucks D Nikita Tryamkin Proving the 'Russian Factor' Is Real
Vancouver Canucks defenseman Nikita Tryamkin is proving the 'Russian factor' is still a thing.
When the Vancouver Canucks drafted defenseman Nikita Tryamkin in 2014, there was not a lot of buzz around him. Sure, a 6-foot-7 D-man doesn't go unnoticed, but third-round picks aren't the ones that create hype. For Canucks management, however, there was more to it.
The 2014 NHL Entry Draft was the first with Jim Benning as the club's general manager. A former scout, Benning knows what he is doing when it comes to drafting. And with pick No. 66 in the draft, he decided a giant Russian defenseman was the right pick.
Prior to that day, the Canucks hadn't drafted a Russian in seven years. Some say the 'Russian factor' is a myth, but it influences Russian players' draft positions every year.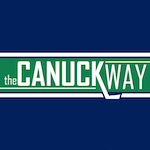 Want your voice heard? Join the The Canuck Way team!
Write for us!
Most famously, winger Valeri Nichushkin was said to have top-five talent back in 2013, but fell to the Dallas Stars at No. 10. Nichushkin decided to return to Russia this year, and the teams that picked in the top nine back then likely don't regret their decisions.
With third-round picks, there is obviously much less risk. You never know how players develop, especially in the later rounds, so getting a potential NHL player is the No. 1 target. That makes the Tryamkin scenario even more frustrating — the Canucks found a potential NHL player at 66, but he probably isn't helping Russian draft prospects of the future.
Right from the start, Tryamkin said he would only come over to North America if he is guaranteed to play in the NHL. Because of that, the Canucks gave him a European assignment clause that allows him to return to Russia if the Canucks decide they don't need him. Fans always assumed Tryamkin might eventually give in and agree to develop with the AHL Utica Comets instead of rotting in the press box, but this season is showing he won't change his mind.
According to a Benning interview with Iain MacIntyre of the Vancouver Sun, Tryamkin and/or his agent recently confirmed the Russian will not agree to an AHL assignment:
"There is no possibility that he will play in the American Hockey League," Benning said between weekend games against the Los Angeles Kings and the Anaheim Ducks — the sixth and seventh games that Tryamkin has been a healthy scratch. "We've explored that. We've talked to him and his agent and he has said no. In a perfect world, we'd like him to get some games (in the minors). But it is what it is."
What "it" is is the 'Russian factor'. Tryamkin confirms it's a thing. And it does more harm than good.
For Tryamkin, the situation sucks because he clearly isn't ready for a full-time NHL role at this point. It even seems like he isn't ready for an occasional game. At least he isn't outplaying anyone else on the roster — not even Luca Sbisa. Players need to play to stay in shape, and young players need ice time to develop, so this is 100 percent negative for Tryamkin.
For the Canucks, it sucks equally much. They don't really want Tryamkin on the roster right now, but don't want him returning to Russia either. He is taking up a roster spot and, as I said above, somewhat "rotting" in the press box. If he doesn't get into game action soon, who knows where his development will go.
Personally, I don't think the situation can stay like this for the rest of the year. The Canucks need to make a decision eventually, even if that means returning Tryamkin to Russia.
The only thing that could currently thrust him into the lineup is an injury (or two or three) on defense. But even then, Alex Biega, Andrey Pedan and Troy Stecher would probably be the Canucks' top choices.