Canucks prospects Carl Neill, Tate Olson will re-enter draft
The Vancouver Canucks decided not to re-sign prospects Carl Neill and Tate Olson, who will be allowed to re-enter the NHL draft.
There was a time when defenseman Tate Olson was named the Vancouver Canucks' fourth-best prospect by TSN Director of Scouting Craig Button. Those times seem officially over, as the Canucks will not sign Olson to an entry-level contract. Fellow D-prospect Carl Neill will not be signed either.
Neill, a former fifth-round pick by the Canucks, recorded 13 goals and a career-high 69 points in 67 QMJHL games this year. Yet, he was never considered a lock to be drafted, mostly because of his skating deficiencies that could trouble him at the next level. But despite that, it seemed like it wouldn't hurt to add a right-handed D-prospect.
Olson always seemed like a player the Canucks should definitely lock up; some were ready to call his selection in the seventh round a great steal. His point total in the WHL dropped by 21 points this year compared to last, but the reason was likely Olson's focus on improving his defensive game and decision-making. Olson tended to take too many risks that he isn't taking anymore.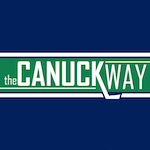 Want your voice heard? Join the The Canuck Way team!
Write for us!
So, why did the Canucks decide to let both players re-enter the draft?
The Canucks haven't released a statement regarding their intentions, but it seems likely that they wanted to save the roster spots. Nikita Tryamkin and Philip Larsen are leaving for the KHL and some of the pending free agents will be let go, but perhaps the Canucks want to fill those spots with guys who are ready to step in and make an impact.
Are the Canucks sure about OHL free agent Darren Raddysh and prefer him over Neill and Olson? Possibly.
If the Canucks didn't like Neill and Olson enough to sign them, so be it. But considering the club's current situation, it seems like Neill and/or Olson could have helped.
As of now, it looks like Brock Boeser, Adam Gaudette and Guillaume Brisebois are the only 2015 picks who will advance their careers in Vancouver.
The next drafts need to get better.